The Song Train is a beautiful 4-CD "boxed set" recording with an 80 page color hardback illustrated book released in Dec 2007. It contains 56 songs: arranged, performed recorded, sung and played by Harvey Reid & Joyce Andersen.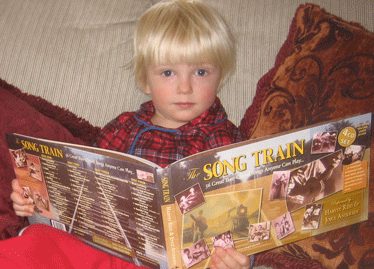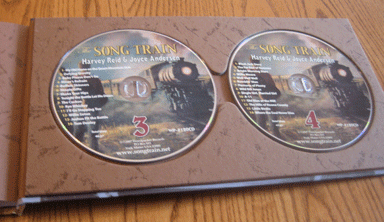 A unique and ingenious teaching tool, it straddles the fence between being a book and a recording, and between education and entertainment. The folk, blues, rock, country, gospel, celtic and bluegrass songs are great to listen to on their own, and don't really sound any different than a Reid & Andersen recording. But they are all musically uncomplicated, and none has more than 2 simple chords, driven by just an acoustic guitar. The idea is to provide a repertoire of accessible songs and a model of how to deliver them effectively without fancy guitar techniques, and to replace the usual handful of boring songs in guitar instruction books with a "trainload" of exciting and real songs. (If you don't believe that real musicians play these songs, go look at THIS VIDEO of Ray Charles, Fats Domino and Jerry Lee Lewis jamming. These guys can play anything, and being piano players, they could play any chords in the book, but they chose to rock the living daylights out of a 2-chord Song Train song [Jambalaya](Unfortunately, Fats took down the video and you have to buy his video to see it, but you can still hear the audio here.) Because The Song Train is a recording, it includes 27 copyrighted songs by modern writers such as Hank Williams, Chuck Berry, JJ Cale, Tom Paxton, Gillian Welch, Bob Dylan and Woody Guthrie. (It is not legal to put copyrighted material in a book, web site or video or to reproduce the original sound recording, but you are allowed to record your own version of songs if you pay a royalty.)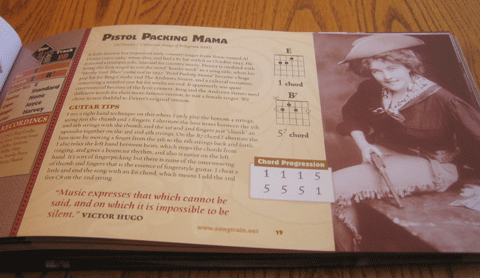 Reid & Andersen share the vocals equally, and add some beautiful harmonies, and some tasteful backup fiddle, guitar, mandolin and dobro to keep the music interesting.
Useful for beginners, or for veterans who could use some good songs to lead a jam session, these songs cover a lot of musical ground and offer a fascinating cross-section slice of the American musical landscape. The list of artists who also recorded them is staggering. Also included are in-depth discussions of the history and impact of each song, who recorded it, with chord charts and diagrams and tips to show you exactly how they play them. The appendix has all kinds of useful information about guitars, strings, tuning, theory, transposing and about owning an instrument. Armed with just a guitar, a few things you can get at any music store, and a copy of "The Song Train" anyone could embark on their own musical journey.
THE SONGS:
Roving Gambler (Trad.), Handsome Molly (Trad.), Oh Death (Trad.), Kentucky (Kurt Davis), Rock Island Line (Huddie Ledbetter/John Lomax), You Never CanTell (Chuck Berry), Tijuana (J. J. Cale), My Old Home on the Green Mountain Side (Norman Blake), Defying Gravity (Jesse Winchester), Clyde (J. J. Cale), John Henry (Trad.), Old Blue (Trad.), When Your Troubles Are Like Mine (Trad.), Jambalaya (Hank Williams), Feelin' Alright (Dave Mason), Jack O' Diamonds Blues (Trad.), Pistol Packing Mama (Al Dexter), Waltz Across Texas (Q.Tubb), Little Maggie (Trad.), Bound for the Promised Land (Trad.), Ode to the E Chord (Harvey Reid), Tulsa Time (Danny Flowers), Honky Tonkin' (Hank Williams), My Horses Ain't Hungry (Trad.), Memphis (Chuck Berry), Changed the Locks (Lucinda Williams), Sinner Man (Trad.), I Love You A Thousand Ways (Lefty Frizzell), Moonshiner's Blues (Harvey Reid), Tombstone Blues (Bob Dylan), Baby Please Don't Go (Big Joe Williams), Miner's Refrain (Gillian Welch/David Rawlings), Buffalo Skinners (Trad.), Simple Gifts (Trad.), ShakeYour Hips (Slim Harpo), Tonight the Bottle Let Me Down (Merle Haggard), The Cuckoo (Trad.), Rye Whiskey (Trad.), I'll Go Stepping Too (Jerry Organ/Tom James), Willie Seton (Tom Paxton), Joshua Fit the Battle (Trad.), Tom Dooley (Trad./ arr Proffitt/Lomax/Warner), Black Jack Davy (Trad.), Far End of Summer (David Francey), Bright Morning Stars (Trad.), Willie Moore (Trad.), Well Well Well (Bob Dylan/Danny O'Keefe), Ramblin' Man (Hank Williams), Pastures of Plenty (Woody Guthrie), Wild Bill Jones (Trad.), Single Girl, Married Girl (Trad.) 108, A-11 (Hank Cochran), Old Man at the Mill (Trad.), The Hills of Roane County (Trad.), Little Birdie (Trad.), Where the Soul Never Dies (Trad.)
The Song Train is a unique and useful tool, but it is not an instruction method (but it is!) and it has little to do with lessons, practice or guilt. It's just songs and a lot of music that is embedded in them and in the people who play them. Like you.